Through the first quarter of Game 3 of the Western Conference Finals, the Houston Rockets were executing their gameplan to perfection.
James Harden and the rest of Houston's guards were wearing Stephen Curry out early, placing him in a flurry of ball-screens, pick-and-rolls, and hard drives in the game's first three minutes. This approach was specifically designed to deter Curry's offensive rhythm.
Up to this point, Curry was amidst a funk. Through the first two games of this series, Curry was averaging 17 points per game to go along with 15-of-34 shooting (44.1 percent) from the field and 2-of-13 (15.3 percent) from 3. And after the first half of Game 3, Curry's woeful shooting continued, going 3/11 and missing six consecutive three-pointers.
But credit Curry's missed shots to Houston's defense, which forced the Warriors to use elaborate off-ball movements to generate offense to a greater extreme than a normal defense would, as The Ringer's Kevin O'Connor noted Monday. However, as the case has been with Golden State all season, their offense has too many weapons to keep down for an entire game. Eventually, one would expect Curry's shots to fall.
Spoiler alert: they did.
These two plays, one late in the 2nd quarter and the next early in the 3rd, is when Curry started to gain confidence.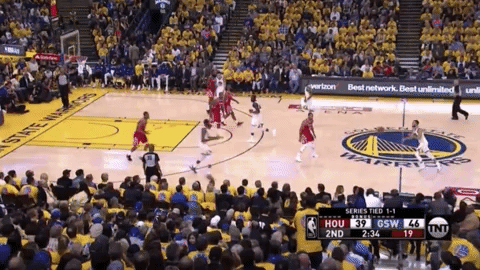 In the play above, Curry uses off-ball movement to score through traffic. After passing it early in the possession to Kevin Durant, Curry zig-zags past several Rockets to the weak-side. As soon as Gerald Green switches onto him, Curry passes it to Draymond Green, who quickly hits him with a bounce-pass in the line once he slips free.
Again, Curry scores on an and-1 lay-up thanks to another entry pass from Green. This is a different wrinkle compared to the first one because Curry is isolated with Chris Paul with no help at the rim.
In full, these quick and strategic scoring plays might not seem like much, but to a transcendent scorer and shooter like Curry, just seeing the ball go through the basket can extend his confidence.
"We've seen this so many times with Steph. All it takes is one," Warriors head coach Steve Kerr said after the Warriors' 126-85 win. "This guy is a two-time MVP."
Kerr is spot-on. All it takes is one made bucket for Curry to get going.
And that's exactly what happened. As the Warriors stretched a 13-point-lead to 26 in just four minutes, Curry found his shot again, ripping Houston's heart out with these two three-pointers that sent Trevor Ariza in a state of shock (look at his face once Curry's shots go through the net!)
All told, Curry erupted for 18 points in the third quarter, going a perfect 7/7 from the field and 3/5 from 3, sending the Oracle Arena crowd into a state of euphoria. Moreover, Curry alone finished with more points (35) than Harden (20 points on 16 shots) and Chris Paul (13 points on 16 shots) combined.
"You have to man up and guard him," Green said after the game.
But this is what makes Curry and these Warriors so lethal. The Rockets' game plan had been executed well. They were attacking Curry, getting into the paint, and making life hard on the Warriors by forcing them into isos and uncomfortable cutting actions.
But then Curry twisted the knife in Houston's stomach, and that was all she wrote.
If you don't know by now, Curry's latest outburst should serve as one final reminder: When the Warriors are clicking like they were in Game 3, and Curry goes nuclear, there's nothing, absolutely nothing, the Rockets or any NBA team can do.