Al Horford has been one of the most underrated All-Stars of this generation.  
The 31-year-old Celtic has never put up eye-popping statistics, but he's made a career for himself by doing the little things that don't show up on the conventional box-score.
Horford was drafted third overall in the 2007 NBA draft by the Atlanta Hawks out of the University of Florida, where he won back-to-back national championships.
After spending nine seasons with the Hawks, making four All-Star teams and one All-NBA third-team, Horford signed a max-contract with the Boston Celtics in the 2016 off-season.
Horford has developed into one of the highest-IQ centers in the league and has used that ability, along with his consistent jump-shot, to lead the Celtics in the past two seasons.
Outside Scoring: 18/20
Horford attempted almost no three-pointers during his first few years in the league, but his three-point attempts per-game spiked from 0.5 per game in 2014-15, to 3.1 in 2015-16.  
Since then, he's steadily increased both his three-point rate and three-point percentage. This year, Horford is shooting a career-high 43-percent, which currently ranks eighth in the NBA.  
Horford creates most of his threes off of pick-and-pop situations with Kyrie Irving, who Horford has built extreme chemistry with this season.
Although a large portion of Horford's threes are open attempts, he's able to utilize the jab-step on occasion, which helps him create enough space to get his shot off.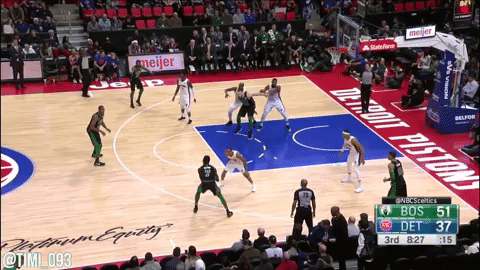 Horford has become one of the best stretch big-men in the league, and his ability to hit threes has made him indispensable in the Celtics offense.
Inside Scoring: 17/20
Although Horford doesn't have the prettiest low-post game, he's still very effective.
Using his lateral quickness and unconventional face-up style, Horford can move past defenders on the low-block reasonably often.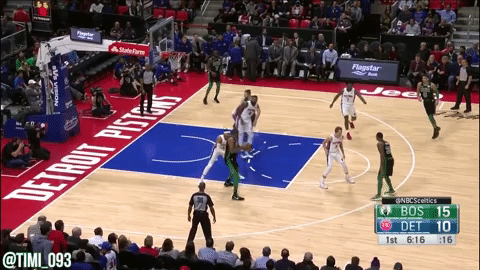 Horford is also great at drawing in defenders with ball-fakes.
Because he's such an efficient shooter, big-men will close out late, which allows Horford to drive past them and elevate to the rim.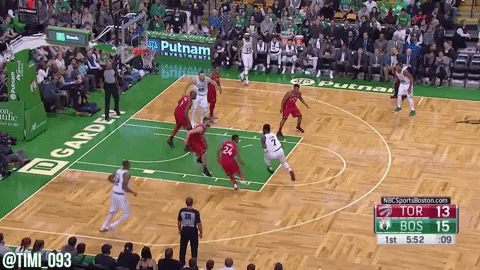 Horford has also found a nice scoring niche with the one-legged fadeaway in the post as an alternative to the hook shot.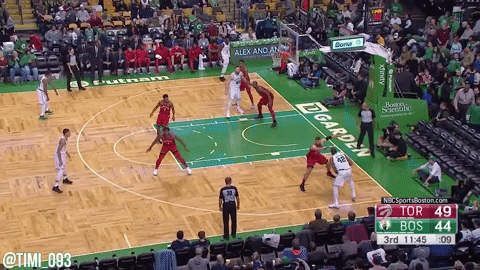 Passing: 18/20
Horford's ability to find passing lanes and make the correct basketball play is what separates him from most centers.
Other than Nikola Jokic, Horford is the best passing big-man in the league, and these series of GIFs explains why.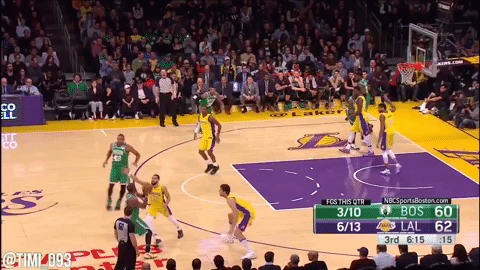 In addition to his great half-court passing, Horford often times brings up the ball for the Celtics and runs the floor.  It's unique for a 6'10" big-man to push the pace in transition, as well as find an open shooter. 
Although Irving is the best offensive player on the Celtics, Horford is often the "floor general" who controls the tempo and initiates the play.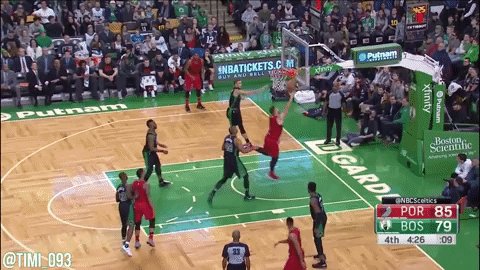 Horford essentially played point-guard in this game (where Irving sat-out with an injury) against the Portland Trail-Blazers.
Rebounding: 12/20
Horford has never been a fantastic rebounder, especially since he signed with Boston.  
This season he's averaging 7.8 rebounds per game, a full rebound more than what he averaged last season.  
From the outside looking in, seven-to-eight rebounds per-game for a center isn't great, but it's excessive to call his rebonding-ability a weakness.
Horford plays away from the rim for most of the game on offense, and the Celtics switch a lot of their matchups defensively, so often times Horford isn't down-low when a shot goes up.  
That said, Horford will never be considered a true "glass-cleaner."
Defense: 16/20
This season, Horford is arguably playing the best defense of his career.
His versatility on that end of the floor is one of the main reasons the Celtics have the best defense in the league. Horford rarely has a problem switching on smaller guards, using his length and lateral quickness to affect their shots around the rim.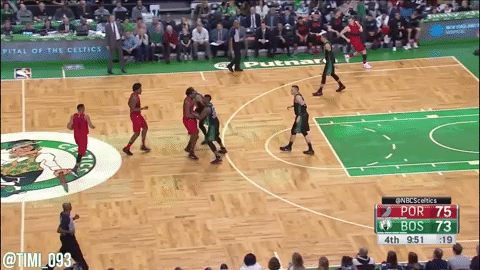 When it comes to guarding big-men, Horford is also reliable. Sometimes, stronger post players will give him some trouble.
Overall, Horford is a great defender and has a chance at making either of the all-defensive teams this season.
Free-Throw Shooting: 13/20
Horford averages 1.5 free-throw attempts per-game, which is low for a big man.
When he does get to the line, Horford is shooting 73-percent, a regression from his 80-percent free-throw shooting last season.
Future Outlook:
Horford is 31-years-old, so he's nearing the end of his prime.
His finesse play-style and excellent playmaking ability will allow Horford to carve out a productive career into his 30's.  
Big-men with similar skill-sets, who also don't rely on their strength and athleticism, have good track-records during the later stages of their careers.
If Horford can improve his three-point shot further, that will only make him more valuable in the coming seasons.  Even if he doesn't, Horford will still be an effective NBA player for at least four-five more years.
Scores:
Outside Scoring: 18/20
Interior Scoring: 17/20
Passing: 18/20
Rebounding: 12/20
Defense: 16/20
Free-Throw Shooting: 13/20
Overall Score: 15.7/20