One of the greatest players, if not the greatest, to play basketball.
Wilt Chamberlain was a 7 foot 1 center who played for the Philadelphia Warriors, 76ers and the Los Angeles Lakers from 1959 to 1973. Chamberlain is most notable for his single game scoring record of 100 points.
Chamberlain was a freak of nature when entering the league, as no one else could quite match up with him. There was no one else like him, not even Bill Russell. Comparable to LeBron James in today's NBA, Chamberlain used his freakish athleticism to his advantage. He was a big man that could run with the speed of a point guard.
Chamberlain was also very outspoken and had a personality that was different from the rest of the players back then. In his biography, Wilt: Larger Than Life by Robert Cherry, Jerry West says that Chamberlain was "One of the most misunderstood men I had ever known."
Wilt dominated the game early, averaging 50 points and 27 rebounds in his 3rd season. The NBA changed the game because of how good he was. Despite all his greatness, Chamberlain was only ever able to win 2 NBA championships. Often coming up short thanks to Bill Russell and bad luck, Wilt was seen an underachiever. While it is hard to debate how many rings Chamberlain should've won, no one can deny how talented he was.
OUTSIDE SCORING: 16/20
Well…this is tricky. The NBA did not implement the 3-point line until 1979, 6 years after Wilt retired. Not that it would have made a difference for Wilt, who didn't shoot from that distance to begin with. Wilt was in some ways a prototypical center, rebound and score around the basket.
However, Wilt had a fade away jump shot that, similar to Kareem's Sky hook, was unstoppable. This doesn't technically count as an outside shot, but back then everything was closer to the paint. This video from the Wilt Chamberlain Archive shows off that jump shot.
INTERIOR SCORING: 20/20
It doesn't need to be said that a 7 footer with the speed and hands that Chamberlain had would be a dominant interior scorer.Wilt said that he could bench press 600lbs and he played like he could. The "Big Dipper Dunk" was unstoppable (unless you fouled him…keep reading). Wilt had a shooting percentage of 54, most of them dunks. There are only a few players who would be worthy of a perfect inside scoring grade, and Chamberlain is definitely one of them.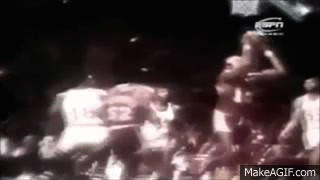 PASSING: 12/20
Pass? You don't need to pass when you are as dominant as Chamberlain was. In an era where Oscar Robertson averaged a triple-double, stats were easy to come by. So Wilt's career average of 4.4 assists per game is good for a center but not for a star player of that era.
Wilt could make all the basic passes but even when paired with the likes of Jerry West, he couldn't get his assists higher than around 4.  It's not a detriment on him, just not a proficiency. It is just one of the areas where today's centers like Marc Gasol and Nikola Jokic have evolved.
REBOUNDING: 20/20
It may be safe to say that Wilt Chamberlain was the greatest rebounder of all-time (Sorry Rodman). With a career average of  22.9 boards per game, he leads the NBA in all-time rebounds at 23,924. He got so many boards, one can only wonder why that didn't translate to more outlet passes, but that's just a product of the time.
What made Wilt such a good rebounder? Well having that size and playing almost 46 minutes a game will help, but Chamberlain also had one of the best verticals in the game. Russell was a good rebounder back then as well, but the thing that separated them was Wilt's ability to chase down boards that normally guards would get.
DEFENSE: 18/20
Man..This guy is so good, he must of had at least 5 blocks a game, right? Well, the NBA did not start recording blocks until right after Chamberlain retired. However, it is known that despite his era not being known for defense, Wilt was a solid defender and a extremely capable shot blocker.
As mentioned before, Wilt had a vertical leap that unheard of at the time. Combine that with his length and size, one can presume that Wilt altered and blocked many shots throughout his career.
FREE THROW SHOOTING: 9/20
Let's be clear, if Chamberlain had any major flaw, it was his free throw shooting. Wilt was a career 51% shooter from the line. As one could imagine, he shot a lot of them since that was the primary way of stopping him. It came down to Chamberlains form of shooting, he shot it underhand and even tried the "granny" style shot.
Nothing seemed to help. Chamberlain himself said he once saw a psychiatrist to help find the problem, but nothing came of it. Although it is said that he improved when shooting in crunch time, there is little evidence of that. Like with Shaq, free throws are the one area where if there had been improvement it'd be scary.
PAST TO PRESENT:
Obviously there is no future outlook here, so instead we'll look at how this player may have fit in today's NBA. In the case of Wilt Chamberlain, it is almost easy to say he would be a top 5 center. The shooting would be tough to adapt too, but who knows if Wilt was capable of hitting 3's. Wilt already has just as good size, athleticism, and skill as any big men today.
He would easily average a double-double. He could be a mix of Andre Drummond and Anthony Davis. His personality would be perfect for the game today, as he was eccentric like a Charles Barkely. His conversations and relationship with Bill Russel were gold. It's not that today's big men are taking a backseat, but Wilt would definitely want to be the driver and he may not be able to win much, but he would still dominate.
OUTSIDE SCORING: 16/20
INTERIOR SCORING: 20/20
PASSING: 12/20
REBOUNDING: 20/20
DEFENSE: 18/20
FREE-THROW SHOOTING: 9/20
LEGENDS BONUS: +13
OVERALL SCORE: 19/20
The legends bonus points included in that final score are for changing the rules and holding several records that remain untouched.
Thanks for reading and we hope you enjoyed this classic edition of Player Profile! Let us know what you think @rotoden