Only a few more left! Time to take a look at Group F from the 2018 FIFA World Cup. Here's what the group looks like.
Let's go!
Group F
Draw: Germany, Mexico, Sweden, Korea Republic
Group F holds the number 1 ranked team in the world in Germany, the best team out of CONCACAF in Mexico, a Swedish team that booked their ticket by knocking off Italy in a playoff, and a Korean team that is making its 10th consecutive appearance since 1986.
Prediction:
Germany

Mexico

Korea Republic

Sweden
Germany
What really needs to be said about Germany. They have it all. They have an amazing starting XI, a super deep bench and a fantastic mix of experience and young talent. The team itself is in great form, not having dropped a single point in WCQs this term, and only conceding 4 times in that span of 10 games).
Players like Marc-Andre Ter Stegen (Barcelona, Spain), Jerome Boateng (Bayern Munich, Germany), and Mats Hummels (Bayern Munich, Germany) will lead the strong back line, with players like Joshua Kimmich (Bayern Munich, Germany) and Jonas Hector (1. FC Koln, Germany) on the flanks. Not to mention the likes of Mustafi (Arsenal, England), and Howedes (Juventus, Italy) to come in as reinforcements.
They have a plethora of midfield options as well. Mesut Ozil (Arsenal, England) will pull the stings, with Toni Kroos (Real Madrid, Spain) in behind him in the CDM role. Leon Goretzka (Shalke, Germany) can fill in as a 8, and Sami Khedira (Juventus, Italy) and Emre Can (Liverpool, England) can also provide assistance.
On the wings, Leroy Sane (Manchester City, Englad) has become on of the hottest young talents, and will be able to produce massively for this German side. Julian Draxler (PSG, France) has shown his dangerous attacking potential in France, and can compliment Sane nicely. Up top, Muller (Bayern Munich, Germany) will run the line, with Timo Werner (RB Leipzig, Germany) and Serge Gnabry (Hoffenheim, Germany) on the bench to support.
Germany are easily one of the favorites to win it all again this year. While they may have some problems in the later stages of this tournament, they should have no issues topping this group.
Mexico
The Mexicans had a very solid WCQ outing, topping the CONCACAF group and only losing once. They have a stout defense, a creative midfield and an explosive attack. Mexico have only conceded 6 times in WQCs and produced a +9 GD. They can surprise a lot of people at this year's tournament.
In goal, Memo Ochoa (Standard Liege, Belgium) has already proven his abilities at the last World Cup, making a countless number of phenomenal saves to win Mexico matches, or at least keep it close. At 32, he has the experience and ability to make his mark again.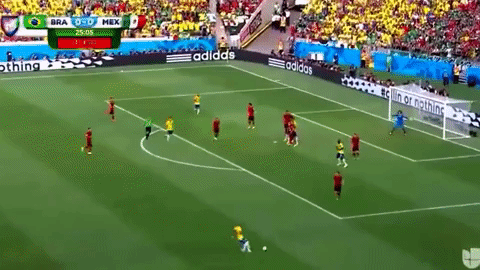 In front of him, Hector Moreno (Roma, Italy) Miguel Layun (Porto, Portugal) and Diego Reyes (Porto, Portugal) have gelled very well so far, and have been able to keep the most dangerous attackers out. Andres Guardado (Real Betis, Spain) and Hector Herrera (Porto, Portugal) will pull the strings and attempt to provide quality service to the dangerous attackers the Mexicans have.
Chicarito Hernandez (West Ham, England), Jesus Corona (Porto, Portugal), and Gio dos Santos (LA Galaxy, USA) make up an attack that can pick apart any defense. They are aided by highly sought after youngster Hirving "Chucky" Lozano (PSV, Netherlands), who has been linked to Arsenal and Man City. He has 10 goals in 15 games for PSV, and is very effective on the wings. LAFC's newest DP Carlos Vela (LAFC, USA) will also be joining them. In Spain, before falling out of favor, Vela was a consistent 9+ goal scorer. He has 3 goals so far for Mexico, and will continue to produce at the tournament.
The Mexicans are a well-rounded squad. They have a lot of talent in a lot of areas on the pitch. They don't have enough to top the Germans, but they will do enough to finish 2nd and move on.
Korea Republic
The lowest ranked team in the group, Korea Republic has constantly made the World Cup finals since 1986. The Koreans are a precise and accurate team that relies one calm and careful build ups to break down opposing back lines. Led by Heung-Min Son (Tottenham, England), they can create and capitalize on a few opportunities and shock some people this tournament.
The team itself had a difficult qualifying period, losing 3 times and drawing 3 times. The main difficulty with the team is going to be keeping the ball out of their net. They only kept 4 clean sheets in 10 games, and 3 of them were in draws. They struggle to go forward without exposing themselves to giving up goals.
In the back, Kim Seung-Gyu (Vissel Kobe, Japan) is the first choice keeper. Jang Hyun-Soo (Tokyo, Japan) and Kwak Tae-Hwi (Seoul, Korea) lead the back line. Maybe not the best choice, as Kwak is blind in his left eye.
A lot of the offensive production comes straight from the midfield. The midfield has contributed 19 goals in WCQs. Ki Sung-Yeung (Swansea, England) and Koo Ja-Cheol (Augsburg, Germany) run the team. They each have 4 goals, with 2 others having 3 and a few having 2 as well. A lot of well timed late runs and combinations up top can cause a lot of problems for opposing defenses.
Up top, Heung-Min Son is the leading scorer with 7 goals. After emerging from the Tottenham camp last year, he has not lost his form. He is still one of the most dangerous wingers in the game and can change games with one strike. The Koreans are never really looked at as a team that will make waves, and in this group, they probably won't. But, they have the potential to compete with any team. They have a solid chance to pull a result out of the game vs Sweden, which would give them a good chance at finishing 3rd in this group.
Sweden
No Zlatan, no party. When Zlatan played, you never could count Sweden out. However, without his attitude and ability, the Swedes lack that feeling. Sweden got into a playoff with the Italians and shocked the world by pulling off a 1-0 aggregate win. They had a relatively easy WCQ cycle, really only having to deal with the Dutch and the French, losing to each once. The squad is not strong enough beat these types of teams.
In goal, Robin Olsen (Copenhagen, Denmark) has played all 12 games, and is a starter at his club, gaining only 10 clean sheets in 30 games
across the Danish League, Champions league and Europa League. In the back, Andreas Granqvist (Krasnodar, Russia) is as solid as they come. He also has played every WCQ for Sweden, but has only gained 5 clean sheets in 23 games in Russia and the Europa League. Victor Lindelof (Manchester United, England) shows great promise but is struggling to get games at United.
In the midfield, Emil Forsberg (RB Leipzig, Germany) can be exciting when he wants to be and
has 4 goals and an assist for Sweden so far. However, he is all they really have in this position. Up top, Marcus Berg (Al Ain, UAE) has scored 8 times for the Swedish team, but 4 of them came against Luxembourg, 2 against Belarus, and 1 against Bulgaria. He doesn't often put the ball away against top teams, and there are two of them in this group alone.
The Swedes have spots of talent, but will struggle overall to break down the defenses of Germany and Mexico.  There is a good chance that they get caught up by the Koreans and drop points there as well. It would not be shocking to see them finish last in this group.